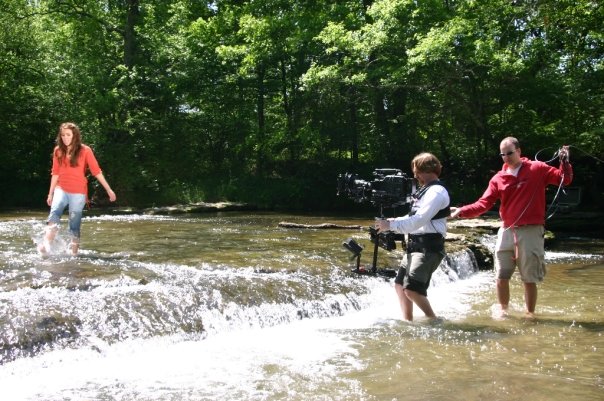 Ilove entertaining which is why entertainment is one of my favorite types of production to be involved in. My degree was focused on recording in the studio and dealing with the business side of music so entertainment feels like an extension of this. My entertainment career has not been as extensive as sports, but I have been fortunate to experience many levels of Entertainment Production (from network to small time DVDs).
For me, entertainment began at six years old when I started violin lessons. By the time I reached college, I was playing in the local professional symphony as a violest and was the concertmaster at my alma mater. My love for performance led me to learn guitar and play in many groups through college. In addition to performing, I had many opportunities to compose music and help with the technical and production sides of our concerts. When my wife and I moved to Nashville, my first job was working for Spectrum Sound as an audio tech and systems tech for their EAW KF900 series PA system. This job gave me the opportunity to work on PM1D serial number 3 and learn many new technologies and mixing techniques.
In the fall of 2001, I landed a job with Trinity Broadcasting Network as the EIC for their Nashville Facility. The grounds were formerly owned by Conway Twitty and TBN converted it into a concert stage/studio as well as cabling the grounds to allow for various productions. My responsibilities included painting, shading and maintenance of cameras and the edit systems as well as some gaffing and grip work. In addition to these basic responsibilities, I also learned how to run Steadicam, shoot ENG, and DP for some of our productions. When times were busy I also found myself directing and editing shows when they needed me to. We regularly produced large concerts for television as well as smaller shows. The most fulfilling show we ever did was a Newsboys TV special that literally maxed out our capabilities. I had to borrow 40 patch cords from another studio just to do the show.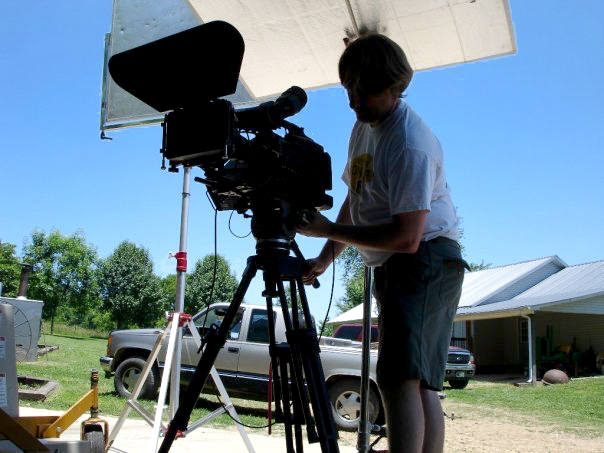 I left TBN in 2004 to pursue full time freelancing. A big impetus in my decision was getting offered to work on Nashville Star for the USA Network. The show taught me a lot about "big boy television" and it really gave me further appreciation for what it takes to do a large scale live TV show. Through this gig, I met a manager at I-MAG Video in Nashville who said they needed video engineers and directors. After Star finished, I went to work for them as a freelancer doing engineering, video, projection, and directing. This job was wonderful because I did everything from conferences to rock shows. One of the highlights was getting to do projection and engineering for Rascal Flatts concert return to Ohio State.
Another connection I made after leaving TBN was with Zoe Creating in Nashville. They were a new studio building a client base and they brought me in to do gaffing for them on a few videos. Our relationship grew and I found myself as the DP and Steadicam operator. Arguably the craziest gig I have ever done was to stand in a running river shooting an artist's music video. We used overcranking and some other techniques to create majestic slow motion video that turned out great. I also rented their Steadicam rig to shoot training videos for Cracker Barrell. The Zoe connection allowed me the opportunity to direct a concert DVD for Shari Iman (who was an up and comer at the time). You can view some of the videos I helped light and shoot on my Portfolio Page (click to view).
In the fall of 2017, I was hired to direct and edit It's A Beautiful Bite for the TBN Salsa network. This was a wonderful experience in doing multi-cam and single camera shoots for this cooking show. We did location and studio shoots over the course of six months and then I was tasked with editing a 10 show season. It was a massive project but one of the most fulfilling projects of my life.
On the live side of production, I have had the opportunity to do it all. In 2005, I was the first EVS operator on the CMT Music Awards. At the time, the producers thought it was magic to be able to record red carpet arrivals and play them back that same segment. The idea of a rollout blew minds and now it is commonplace in awards shows. Through I-MAG I got to direct an barbershop competition, a political tour, many concerts and other corporate events. Through my racing connection, I became the lead EVS operator for Barrett-Jackson, then the Tape Producer and now I have moved into my role as the Post Supervisor. My client for this show also has used me in other productions from a beauty pageant to a racing magazine show.